09 Apr

Healthy Korean Turkey Meal Prep Recipe

Meal prepping is the simplest way to eat healthy while on the go.  Whether you are a busy mom, student or athlete having a weekly meal plan is just as important as having a workout agenda.  Meal prep planning is the key to healthy and consist eating habits. Adding in a one to two days dedicated to meal prepping is an efficient way to portion control your meals, save time and eat healthy while on the go….

Here is our Monday meal prep pick of the week featured on Sweet Peas and Saffron – a healthy and delicious Korean Turkey Meal Prep Bowl!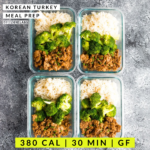 Print Recipe
Healthy Korean Turkey Meal Prep
Ingredients1 tablespoon olive oil3/4 cup uncooked rice1 head broccoli chopped into floretsTurkey Mix 3/4 lb lean ground turkey4 cloves garlic minced1 tablespoon ginger finely choppedSauce Mix 3 tablespoons honey
3 tablespoons soy sauce (reduced sodium)1 1/2 teaspoons sesame oil1/4 teaspoon red pepper flakes1/8 teaspoon pepperGarnishgreen onions (optional)InstructionsCook rice according to package directions. Portion out into four 2-cup capacity meal prep containers and allow to cool.Shake up all sauce ingredients and set aside.Heat oil in a large pan over medium heat. Add the broccoli and cook for 5 or so minutes, until slightly softened. Remove from heat and divide between meal prep containers.Add turkey to pan. Cook, breaking it up with a spatula, for 5-8 minutes, until completely cooked through and no longer pink.Make a space in the middle of the pan. Add the garlic and ginger and cook for 1 minute, stirring up a bit.Give the sauce a shake up and pour over the ground turkey and garlic/ginger. Stir until everything is mixed through, about 1-2 minutes. Remove from heat.Divide turkey/sauce mixture between the meal prep containers. Sprinkle with green onions if desired.StorageOnce everything has cooled, store in the fridge for up to 4 days.To serveHeat in the microwave until steaming hot, and enjoy!NutritionServing: 1bowl | Calories: 380kcal | Carbohydrates: 52g | Protein: 28g | Fat: 7g | Saturated Fat: 1g | Cholesterol: 46mg| Sodium: 852mg | Potassium: 811mg | Fiber: 4g | Sugar: 15g| Vitamin A: 20.1% | Vitamin C: 165.5% | Calcium: 9.2% Iron: 13.8%Ingredients3/4 cup uncooked rice